Can clip renualt is the most powerful diagnostic tool for Renualt.Clip renualt with latest software can clip v169.OBD2repair.com share you diagnostic renault clip renault v169 software download and install guide.
Gold PCB Can clip AN21355SC Chip for Clip Renault  V169
OBD2repair.com clip renault V169 Notice:
06.2017 Clip Renault V169 software is now available! 
Need good quality Renault Can Clip Interface!
Download Clip Renault V169 software + decryption key: https://mega.nz/#!ZApxzTZZ!suQz2Fxt3vd33ggjsLLS-e52CDnT9snaDrrmH-k2APk
NO PASS
It still with unknown security, so enjoy at your own risk!
For 100% tested OK version: Get a $11 Renault Can Clip 169 Crack CD!
Clip Renault diagnostic tool tested OK with Can Clip V169
(4 Steps) How to install Clip Renault V169 software on Windows 7?
Remember to disconnect Internet connection before installation.
Download and extract Can Clip V169 zip file.
Go to the folder "Activation (Patch V3)", open "Crack Renault CLIP" registration entries.
Run Can Clip V169 setup.exe.
Now Can Clip V169 installation start!
Step 1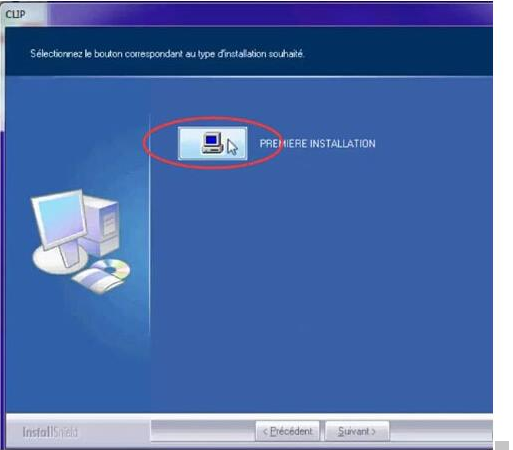 Click the "First Installation" icon.
Choose "I accept…" and "Next".
OTHER COUNTRIES and "Next".
Choose the language: ENGLISH and "Next".
Choose the manufacturer: RENAULT, "Next" and "Next".
Wait about 5 minutes, then follow the tips to restart your computer to complete the "First Installation".
Step 2
Right click the "CLIP" icon on desktop and choose "Properties".
Click "Open File Location" and cut the RSRWin application to desktop.
Back to the folder "Activation (Patch V3)", copy the RSRWin application to the former Local Disk C: location.
Step 3
Open this RSRWin, you are now start CLIP Registration.
Check the box "I understand and accept…" then click "Register me now" button.
You can see a pop-up question "Are you a part of Renault network?", click "NO".
Now you need to enter CLIP Registration unlocking codes.
Back to the folder "Activation (Patch V3)" and fulfill the blanks according to the pictures step 1-step 5.
Then click "Confirm" and "OK".
Step 4
Cut the RSRWin application on desktop back to Local Disk C:/CLIP_X91/Lib/Application, choose "Move and replace".
After that you can see it's installing the software driver.
Now you successfully install Can Clip renualt V169 software!
More question about Clip renault ,pls connect:
Skype:obd2repair / eobdscan1
Whatsapp (+86)13728823163
Email: info@obd2repair.com